RADIO NZ – 26 August 2020
Bernadette Carreon, RNZ Pacific Palau Correspondent @carreondetcarreon.bernadette@gmail.com
The US Secretary of Defense is scheduled to visit Palau for five hours on Friday, with President Tommy Remengesau Junior calling it a historic visit from a high level official of the country's closest ally.
In a press conference, President Remengesau said there were a range of issues that could be discussed during Mark Esper's visit.
"The reason for the visit is very clear. We are a close friend of the United States and the visit shows the US commitment that it is here to support and defend allied countries in this Pacific.
"We are much closer to the United States compared to other countries as we have the Compact of Free Association," Remengesau told reporters.
Secretary Esper's visit comes at a time when the two nations were renegotiating an early second Compact Review with the terms of economic provisions of the agreement set to expire in 2024.
Remengesau said the visit was "a good opportunity for us to meet face to face and discuss some of the important issues for Palau."
He said some of the issues that will be discussed is the improvements of Palau's seaport and airport.
"It is not only good for the (US) military to use for their exercise and training but can be used by Palau as well to boost its economy and tourism."
Tommy Remengesau Photo: AFP
"It is important that he hears from us directly that this close friendship between these two countries on how it can be further strengthened and enhanced even more, as it will boost the US standing within the Pacific region as part of the Indo-Pacific Strategy."
As for Covid-19 protocols, Health Minister Emais Roberts said that all precautions had been met, but because the secretary would only be in Palau for five hours, no quarantine would be required despite him coming from a high-risk area such as the US.
Under Palau's quarantine protocols, travellers were required to quarantine for 14 days and get numerous Covid tests.
Roberts said Esper and his small delegation were required to get tested 72-hours before boarding.
He said only a few select people would be meeting with the secretary.
Roberts said the meeting would also be a chance for Palau to make its requests for medicinal supplies and vaccines.
"We will ask that the US make Palau also a priority, so when there is a vaccine will be right there as a priority for our safety as it will also be good for them is we in Palau are protected. That will be our major request," he said.
The health minister also assured the public that Palau was doing everything to keep the nation safe from the coronavirus despite the visit.
Palau has had no confirmed cases of Covid-19.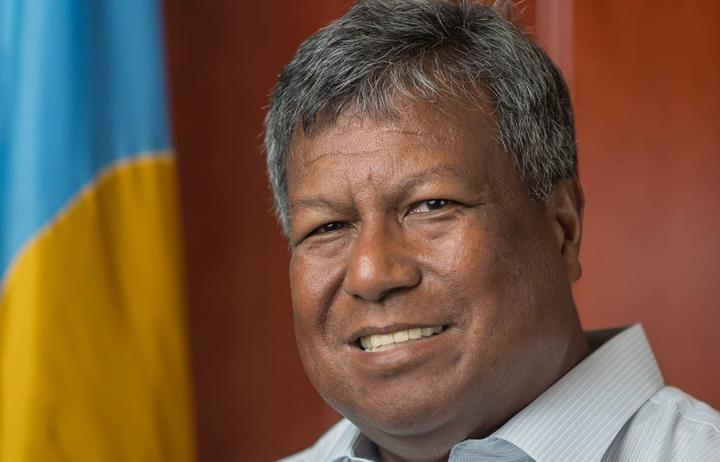 Palau Health Minister, Emais Roberts Photo: Palau Govt/ Wendy Capili-Wilkie