RNZ PACIFIC PAPUA NEW GUINEA August 5th, 2020
Leaders of Papua New Guinea and Australia have signed a Comprehensive Strategic and Economic Partnership.
PNG's prime minister James Marape and his Australian counterpart Scott Morrison signed the partnership at a virtual summit yesterday.
The agreement looks to elevate relations in areas including security, social and human development, and economic co-operation.
Marape thanked Australia for its ongoing support to PNG for fighting covid-19 amidst a worrying surge in cases in the capital Port Moresby.
Morrison told his counterpart it was hard to believe how much the world had changed since their last bilateral summit a year ago.
"The impact on our countries, our peoples, on our societies, our economies has been simply devastating. And I know that has been true as much for Papua New Guinea as it has been for Australia," Morrison said.
A statement from Marape's office said the Papua New Guinea-Australia Comprehensive Strategic and Economic Partnership (CSEP) provided the strategic context to elevate and advance relations between both countries over the next ten years and beyond and encompasses commitments around six core pillars:
(1) Strong Democracies for a Stable Future
(2) Close Friends, Enduring Ties
(3) Economic Partnership for Prosperity
(4) Strategic Cooperation for Security and Stability
(5) Social and Human Development
(6) Near Neighbours, Global Partners
Prime Minister Marape said "each of these pillars embody the mutual values and beliefs that our two nations share", adding that the partnership fell within the framework of PNG's 'friends to all and enemies to none' foreign policy approach.
"I am particularly pleased that the agreement recognises our government's ambition to see 50 percent of donor programs dedicated to supporting improved, high-quality social and economic infrastructure consistent with our longer term goals", Marape said.
The two prime ministers met in person at their last bilateral summit, in July 2019. Photo: PNG Govt
During their discussions, Prime Minister Marape conveyed gratitude to the Australian Government for its "generous and continuous support" funding of US$475,000, medical supplies, including shipment of 12,000 rapid test kits, and specialised Australian doctors to assist PNG in its fight against covid-19.
He also indicated that PNG looked forward to accessing financial assistance from the Australian Infrastructure Financing Facility for the Pacific which is touted as assisting in the delivery of much needed quality infrastructure to support the nation's economic growth and recovery.
Furthermore, Marape welcomed Australia's announcement with regards to the Solar Electrification project in the Markham Valley, valued at more than US$11-million, and reaffirmation of Australia's joint support with the US, Japan and New Zealand for the Rural Electrification Program.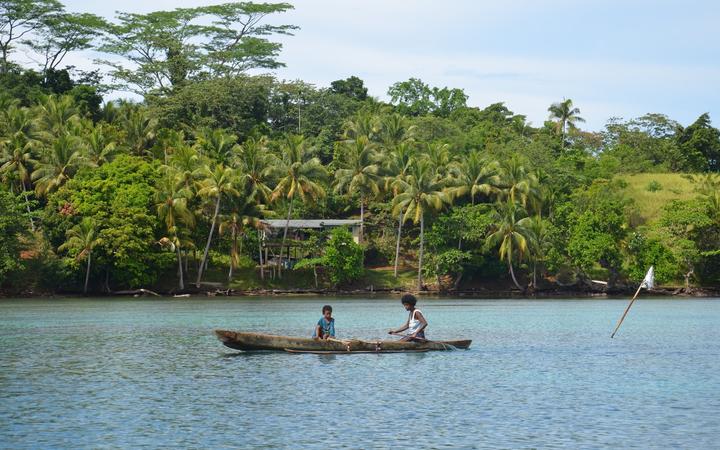 Manus Island, where Australia and PNG have a joint plan to upgrade PNG Defence Force facilities at the old Lombrum naval base Photo: Ed Davey / Global Witness
Manus consultations
During the summit, Marape informed Morrison of the need for PNG officials to undertake domestic consultations on the planned redevelopment of the Lombrum Naval Base on Manus Island in PNG's far north.
The joint plan, agreed to in 2018, was billed as a deal to upgrade PNG Defence Force facilities at Manus' Lombrum naval base, with the US also agreeing to support it when PNG hosted APEC in November that year.
It would also allow Australian and US military forces access to the base.
But Manus Governor Charlie Benjamin has warned PNG's parliament that his people have not been consulted about the plan, warning that the plan couldn;t go ahead without their approval.
Last month, PNG's Foreign Minister Patrick Pruaitch said the government would review the plan.
During yesterday's summit, Marape said consultations would need to take place with the Manus Provincial Government and relevant State Agencies before progressing the matter with Australian counterparts.
Also on the security front, Morrison and Marape reasserted current Defence and Police Cooperation arrangements.
They said they looked forward to developing a new Defence Cooperation Programme over the next three years, covering the need for strengthening land and sea border security and surveillance.