RNZ 4:15 pm on 2 April 2020
Koroi Hawkins, RNZ Pacific Journalist@kazukuru koroi.hawkins@rnz.co.nz
Pacific economies will suffer a sharp fall as resource prices collapse and tourism numbers plummet to zero, but their remoteness could provide something of a buffer in what a World Bank economist called a 'double-edged sword' effect.
In its just-released economic update for East Asia and the Pacific, the World Bank painted a picture of a rapid contraction in countries whose economies are dependent on tourism – like Samoa, Fiji, and Cook Islands.
Already, there have been mass lay-offs as resorts close and flights are cancelled. In Samoa and Fiji, the main international airports have shut down.
In resource-dependent economies like Papua New Guinea, plummeting oil and gas prices are likely to see a collapse of government revenue, with the country tipping into recession.
"It is something unlike anything we have seen," said the bank's lead economist in the Pacific, David Gould, referring to the pandemic. "It is not the global financial crisis … it is not a huge cyclone … it is really quite unique and quite historic in its impact.
"This is really a paradigm shift for a lot us," he said.
Most countries in the region are reliant on both grants and tourism, which are likely to shrink as people are both unable and unwilling to travel, and sources of grants and remittances are also affected.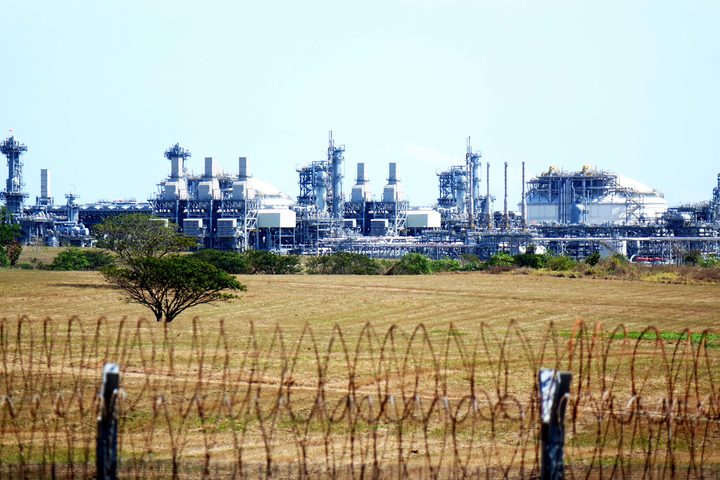 An ExxonMobil LNG Project plant near Port Moresby, Papua New Guinea. Falling resource prices are likely to hit PNG's economy hard. Photo: RNZ / Johnny Blades
With limited healthcare capacity, few social safety nets, and governments saddled with large debts, the impact of the financial situation could hurt, Dr Gould said, which could lead to larger economies needing to provide debt relief to the Pacific.
"Right now we are encouraging the private sector and bilaterals (donor partners) to think hard about deferring debt repayments … to allow countries to take these kinds of immediate measures to stimulate the economy," Dr Gould said.
"Not necessarily stimulate in terms of the traditional sense of increasing demand, but these cash payments just to keep workers with some money in their pocket to buy necessities," he said, "to give them a bit of breathing room."
However, with few connections to the outside world outside of Australia and New Zealand, which have closed their borders to transit, Dr Gould said Pacific countries' isolation could provide something of a buffer.
"It's a double-edged sword I guess, for those countries that do have populations on outer islands where they are basically supporting themselves, the coronavirus, as long as it is not on the island that they are or in that village, they do have the capacity to continue to consume and live as they always have," Dr Gould said.
"The challenge I think, in these outer islands, is that if a case does show up … it is going to be very difficult to give them health assistance given their remoteness."
Still, whatever the final extent of the impact of the coronavirus – much of which is still unknown – it is likely that significant assistance will probably be needed.
Already, the World Bank has announced a $US14 billion finance package for both East Asia and the Pacific, which will help countries respond to Covid-19.
The Asian Development Bank has also made similar announcements, and provided grants to several countries for their responses. Australia has also hinted at financial assistance in the aftermath.