RNZ 4:07 pm on 28 July 2020 
The former Premier of Niue has been described as a "champion" of the country at his State Funeral today.
The service took place at the Alofi Ekalesia church with interment at the family residence at Fonuakula.
As a mark of respect, all flags throughout Niue are at half-mast.
The former leader of Niue died two weeks ago after a long illness.
He was premier for 12 years before missing out on a seat in last month's general elections.
His successor, Dalton Tagelagi, was a member of Sir Toke's last Cabinet.
Tagelagi said even when struck with ill-health, Sir Toke never sat back.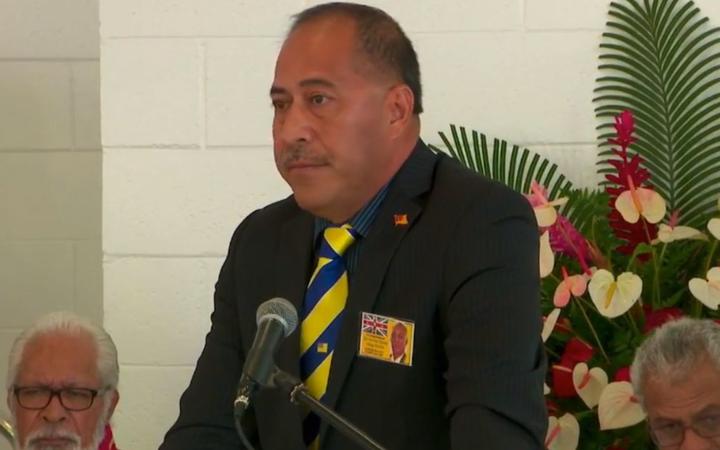 Niue Premier, Dalton Tagelagi Photo: BCN
"Even when he knew he could not carry on, he was still prepared to give it one last chance.
"He never gave up because of his love for his people and for his Niue."
Tagelagi said it was that perseverance and determination which led to Sir Toke helping bring about a modern Niue.
"He led, accomplished and left behind a trademark legacy in various arenas and [he] will be remembered as the champion of Niue transformation and modernisation era. Although he was physically sick, her persisted right until the end."
Earlier, one of Sir Toke's daughters, Sonya Talagi, talked about how his grandchildren were a source of inspiration for his deeds.
"Not only because they were the future but even for all our futures, living here in Niue. Home is where the heart is and for Sir Toke, Niue was his heart.
"He stayed loyal to his heart and loyal to us all until the very end."
Sonya Talagi pays tribute to her father, the late premier, Sir Toke Talagi Photo: BCN
Talagi also talked of her father's passion for cooking.
"Cooking and baking became his favourite pastimes….this is what inspired the Kai Niue Festivals that we have hosted in recent years and he was so proud of the renovations that have been made with local produce."
During the service, the Speaker of the House, Hima Douglas read out numerous tributes from leaders around the world, including from New Zealand Prime Minister Jacinda Ardern.
"We extend our condolences to the family and to the people of Niue. Sir Toke was an elder statesman of the Pacific and a long and close friend of New Zealand. He will be remembered for his life long commitment to safeguarding Niue's future security and prosperity, as demonstrated by his steadfast championing of sustainable economic development, education and the protection of Niue's Taoga."
Ardern's written remarks went on to mention how the two leaders had talked recently about Covid-19, Sir Toke's recent book and the people of Niue.
"He was fiercely proud of Niue, and rightly so."
Sir Toke's Auckland-based family also arranged for a thanksgiving memorial service at the Malaeola community centre in Māngere to coincide with the service in Niue.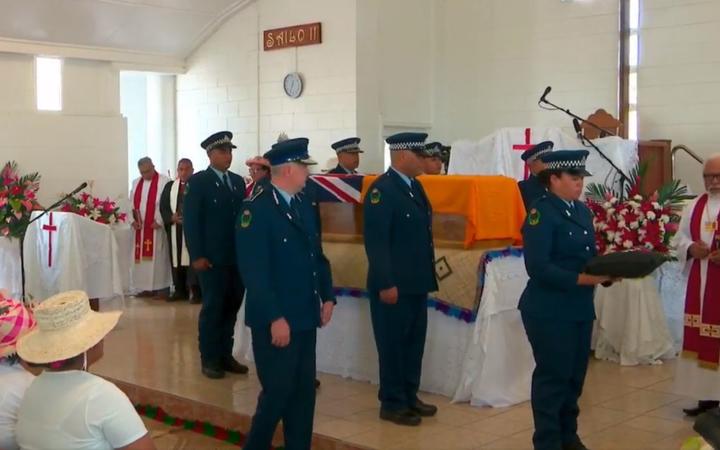 Niue Police at Sir Toke's State Funeral Photo: BCN