RADIO NZ – 10:35 pm on 5 November 2020
Johnny Blades, RNZ Pacific Journalistjohnny.blades@rnz.co.nz
The Cook Islands prime minister has denied that his country is gambling with ocean health by opening up for deep sea mining exploration.
Mark Brown announced that companies keen to conduct exploration in parts of the Cook Islands' Exclusive Economic Zone have until next month to put in expressions of interest.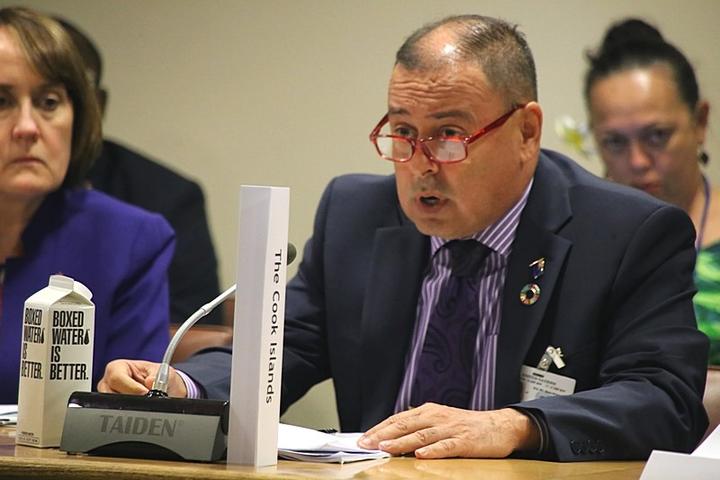 The Cook Islands' roughly two million square kilometres of EEZ contains an estimated 10 billion tonnes of polymetallic nodules, rich in manganese, nickel, copper, cobalt and rare earth minerals. Some of these metals are required for batteries for electric vehicles, and interest in them is growing.
Economic strains caused by the pandemic have highlighted the need for Cook Islands to diversify its tourism-reliant economy. While Brown doesn't attribute his government's plan to open up for exploration to these strains alone, he told RNZ Pacific in an extensive interview that the intention to allow exploration was planned a number of years ago.
There is relatively little known about the furthest depths of the Pacific Ocean, several kilometres down, where some of these nodules are located. Advocates of deep sea mining don't deny that more research is required. Furthermore, even scientists aligned with the companies looking to explore admit that mining would entail substantial damage, butthey argue it would be less significant than that caused by land-ore mining.
Brown said that with regulations in place, as well as the Marae Moana Act providing for ocean protection and the establishment of a Seabed Minerals Authority, the Cooks was in a good position to see if its valuable nodules can be extracted without damaging the ocean.
"We're using the precautionary approach in moving this forward. At this stage I'm very interested to see what the response will be for the call for tenders and see how many people do actually put in applications."
According to the prime minister, exploration is research, and more research is needed to see if exploitation of valuable seabed nodules will harm the ocean.
"It's an area that we are leading in, I guess if you like, and we're quite comfortable doing that as a country. To find out the best way of being able to turn this wealth that we have into income for our people, but at the same time making sure that we preserve our ocean and protect our ocean."
Brown denied that allowing exploration was a gamble, later qualifying it as an "educated gamble".
"I mean countries have been drilling for oil in the ocean for many, many decades now, and they've learnt lessons on safety, on how to ensure that there is minimal environmental impact."
Listen to interview with Mark Brown on deepsea mining duration12′ :44″from Dateline PacificAdd to playlistDownload
Listen to interview with Mark Brown on deepsea mining
But a Cook Islands environmental group is cautioning against proceeding with seabed mining activity until conservation areas are delineated, and a number of other issues addressed. Te Ipukarea Society's Deep Sea Minerals Campaign Consultant, Teuru Tiraa Passfield, said a lot more independent research was required.
"We believe the obligation is really to make sure that our people are properly informed of the potential risks," she explained.
"So whether people support or oppose the industry, that stance that people can take is informed by best evidence, not vague reassurances that we're going to do the research and if there's any environmental damage, we'll stop."
She cited two expeditions that deployed in the region since 2018, ostensibly to conduct research.
"It was a perfect opportunity to get some biological data. But they didn't. When asked why they didn't they said that unfortunately those boats weren't equipped for that sort of research. So that gives some sort of indication of the weight that's been placed on environmental research and data."
Tiraa Passfield said Te Ipukarea Society urged a pause until the country's Marae Moana spatial plan was completed.
"And under this current call for tenders for exploration we also said not to finalise those until the special unique marine areas are noted on the map, so that people know which areas to avoid. If you want to avoid the potential for serious harm, we should have these areas of conservation significance mapped out."
Listen to interview with Teuru Tiraa Passfield on Dateline Pacific duration5′ :43″from Dateline PacificAdd to playlistDownload
Listen to interview with Teuru Tiraa Passfield on Dateline Pacific
But for now, Brown is standing firm on deep sea exploration, even if it means going against the grain of ocean conservation that many Pacific Island countries are pushing. He said he didn't agree with calls by some regional countries for a freeze on seabed exploration, arguing it would impede research.
"I think the 10-year moratorium call is a bit arbitrary. We base our decisions on information and knowledge, not on a time frame. So until and unless that information gained from research is available, that will allow us to make an informed decision to move forward, we don't support that call for a moratorium.
"I don't like to think that we're just like a bunch of sheep following around another bunch of people."