RADIO NZ – 9:08 am on 17 December 2020 
Construction will begin this week on the new multi-purpose hall for the 2023 Pacific Games in Solomon Islands.
The project is being funded by the Indonesian government and was originally scheduled to break ground in April before Covid-19 got in the way.
A team of 10 staff from state owned firm Wiki arrived in Honiara on 17 November and completed quarantine last week.
The Executive Director of the National Hosting Authority, Christian Nieng, said the excavators were ready to put their diggers to work.
"They came earlier on this year in March when we finalised the designs. They went back and had the designs and they were going to start the construction in April but because of Covid-19 they couldn't. Now they're here and they are ready to start the construction."
The Solomon Islands Prime Minister, Manasseh Sogavare, will take part in the groundbreaking ceremony to mark the start of the construction phase this week.
"The construction site fence is being put up right now and they have excavators to start doing the earthworks ready so when we go out there with the Prime Minister we hope that the first shift on the ground will happen after the earthworks," Nieng said.
"Initially it was going to be completed next year but because of Covid-19 they'd rather tell us that they are hoping to hand it to us in December 2022, although they believe that they will complete it earlier."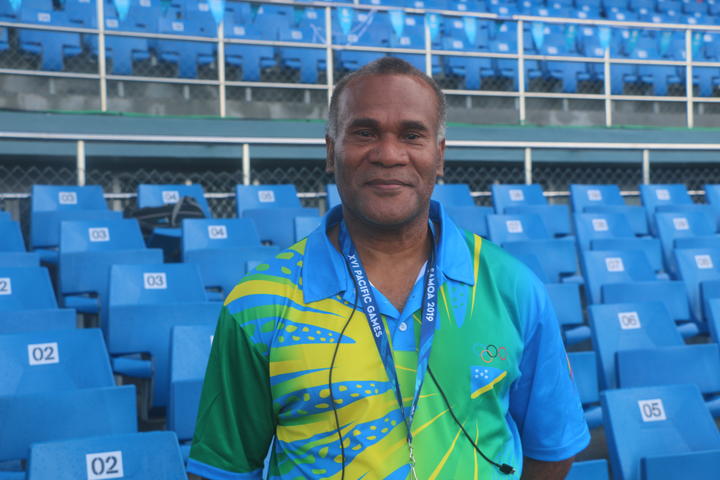 Christian Nieng is the Executive Director of the 2023 Pacific Games National Hosting Authority. Photo: Vinnie Wylie/RNZ Pacific
Design work for the new national stadium in Honiara has also been completed, with Chinese contractors still on track to begin the construction phase in the middle of next year.
"The PRC (People's Republic of China) government is coming to start construction (for the main stadium) on the first of May," he said.
"Which means that by this time next year all these facilities that are planned by NHA, National Hosting Authority, and the Facilities Committee will be under construction and the donors are all committed to deliver the facilities by March/May/June in 2023."
The infrastructure project was promised as a gift to Solomon Islands by China last year shortly after Taiwan pre-emptively ended its 36 year-long diplomatic relationship with the Pacific country.
While 2020 has been a challenging year for the world, Nieng said Honiara was grateful that donor countries have kept their promise to build new facilities for the Pacific Games.