Matangitonga – Monday, March 7, 2022 – 15:13.  Updated on Tuesday, March 8, 2022 – 18:32.
Adrienne L. Kaeppler 1935-2022 – an inspiring journey of discovery into Tongan culture, art, society |
It was with profound sadness, that we learned of the death of the eminent scholar, and great friend of Tonga, Adrienne L. Kaeppler (86) in Washington D.C. this weekend.
Vava'u Press Ltd. was privileged to have worked with Adrienne over the last 35 years, and has published several books about Tongan dance and culture, for which Adrienne was the principal or a contributing writer. There have been many occasions when Adrienne voluntarily joined the team of Matangi Tonga photographers, to cover the most important cultural events in the kingdom. We learned much from her.
An American research anthropologist and writer, known for her books devoted to the culture of Tonga and Hawaii, Adrienne brought to the English-speaking world important insights into Polynesian cultures, especially Tonga, Hawaii and Rapa Nui, and also Asian dance, in a body of scientific work written over five decades.
Her insights were also greatly appreciated by the people and cultures she worked with.
Most recently, HM Queen Nanasipau'u, who has worked closely with Adrienne over many years, wrote the foreword for a Festschrift "Perspectives in Motion: Engaging the Visual in Dance and Music" with contributions from 13 of Adrienne's international colleagues. It was launched by zoom in April 2021 by the Oceanic study group of the International Council for Traditional Music, of which Adrienne was a respected Past President.
The Queen noted in a video message for the tribute that Adrienne's life had been full of passion and love for both the visual arts and dance of Tonga and the Pacific. "It has been amazing for me to have accompanied you on some of your journeys of discovery. Your excitement about the history, culture and arts was captivating and inspiring. …You dedicated your life to your scholarship and the sharing of the wonders you had so carefully and masterfully unveiled," the Queen said.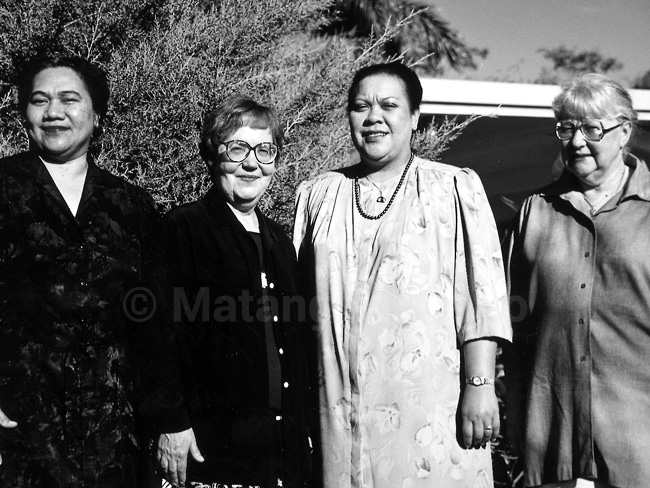 During their many years of research into the Songs and Poems of Queen Sālote, Dr Adrienne L. Kaeppler worked with Princess Nanasipau'u Tuku'aho, Dr. Melenaite Taumoefolau and Dr Elizabeth Wood. Tongatapu,1998.
Distinguished academic career
At the time of her death, Dr Kaeppler was Curator Emeritus for the Pacific Islands in the Department of Anthropology at the Smithsonian's National Museum of Natural History, and up until recently she was continuing to make contributions to scholarship in many fields.
When Brian Diettrich (chair ICTM –Oceania studies) and academic colleagues, compiled a bibliography for the Festschrift they listed over 316 of Kaeppler's works, including papers, chapters and books. "A tremendous contribution to scholarship we found absolutely incredible, and still going… through so many fields," he said.
A former teacher of Adrienne, Dr Barbara Barnard Smith, Professor Emerita, University of Hawaii, said at the tribute that Adrienne was, "a fine, unusually gifted person" who had enhanced her life.
One of Adrienne's early trail blazing contributions to the understanding of Pacific art was the publication of Artificial Curiosities, a world catalogue of the objects collected on the 18th century voyages of Captain James Cook in the Pacific.
During her distinguished academic career, Adrienne was recognised as a pioneer who paved the way for female scientists at the Smithsonian's National Museum of Natural History, "who have advanced humankind's understanding of the natural world and its place in it."
She had received many awards. The Smithsonian awarded her the Secretary's Distinguished Scholar Award for excellence in research in 2010 and Secretary's Research Prize in 2019.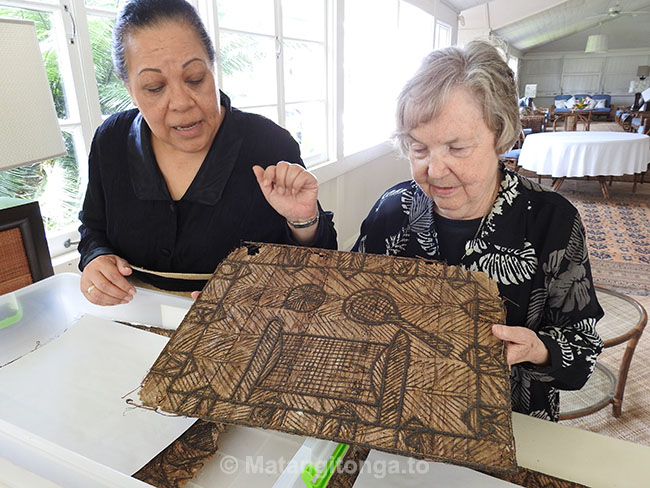 Queen Nanasipau'u and Adrienne L. Kaeppler study kupesi from Tupou College. Polataane, Nuku'alofa, 17 May 2017.
Tongan studies
As a young scholar in the 1964, Adrienne considered herself to be fortunate to begin her studies in Tongan dance, with the support and direction of the late Queen Sālote Tupou III, who had spotted her performing Hawaiian dances with a delegation attending a conference of the Pan Pacific and Southeast Asian Women's Association in Tonga.
"Queen Sālote put me in contact with a number of important Tongan dance people. My first teacher was Tu'imala Kaho who taught me tau'olunga. Tu'imala's mother, 'Ana Malia and Uncle Vaisima (Hopoate) taught me ula and 'otuhaka," Adrienne wrote in the introduction to her book 'Poetry in Motion, Studies of Tongan Dance', a compilation of essays from her early research in Tonga (Vava'u Press, 1993).
At the University of Hawaii, Manoa, Adrienne's dissertation for her doctoral degree in Anthropology in 1967 was on "The Structure of Tongan Dance". She established a method for analysing dance structure cross-culturally, which pioneered a scientific technique for inclusion of the meaningful 'ethnology' part of dance, rather than just a description of the movements.
She had hoped to do a broader study of the 'arts' of Tonga and their interrelationship with social structure. However, she found the most flourishing Tongan arts were the making of barkcloth (ngatu) and dancing. She learned as much as she could about both and began to learn the Tongan language. She returned to Tonga for a year in 1965-66 in what was to become a transitional time for the kingdom.
Adrienne was invited by Queen Sālote to the performance of a mā'ulu'ulu by the girls of Queen Sālote College, in honour of the queen who was leaving the next day for medical treatment in New Zealand. She did not return alive and after her death the kingdom was in deep mourning for six months. There was no dancing.
Adrienne did research on Tongan funerals and social structure and continued to talk to Tongans about dance. During her doctoral research in the 1960s and onwards, she spent much time with Ve'ehala, Tupou Posesi Fanua, Sione Hau Koula, Tu'ialo Kefu, Malia Fusi, Kavapele, and Vaisima. She found many of the compositions were based on very old formulas.
Most importantly, Adrienne had met and worked with Sister Tu'ifua, a Tongan Catholic nun who descended from a high ranking line of chiefs and who learned dancing from Malia Toto and Kolotile, both of whom danced for the immediate descendants of the last Tu'i Tonga.
Since then, Adrienne had returned to Tonga nearly every year to continue her research and learn dance. She took part in the Lakalaka of the village of Ha'ateiho for the Coronation kātoanga of King Tāufa'āhau Tupou IV.
She wrote many essays and articles about Tongan dance, art and society at a time when there were few published works that treated dance in any depth, but felt that her work was only a beginning in the documentation and analysis of the art form.
"As an outsider I have really only scratched the surface. Tongans have a more thorough and detailed understanding of dance and its place in their lives," wrote Adrienne, who hoped her work would stimulate more Tongans to write down their knowledge in order to insure that dance will continue to enrich the lives of future generations of Tongans.
Tongan Masterpiece
Her written work helped to promote understanding of the Tonga's rich heritage and the importance of its sung poetry and dance in its cultural identity.
UNESCO in 2003 recognised the importance of the Tongan Lakalaka when it was proclaimed a "Masterpiece of the Oral and Intangible Heritage of Humanity."
It was significant that last year, in March, the children of the Government Primary School in Kanokupolu, led by Kotoni Siale and Vilisoni Kaivelata, made a special performance of their lakalaka "Ta'anga ma'a Kanokupolu," as a tribute to Adrienne. She was thrilled to see that the lakalaka composed by Queen Sālote continued to be taught to younger generations by Kotoni, who was a follower of her first teacher, Vaisima.
Significantly, the joyful lakalaka, performed at 'Api Polataane in Nuku'alofa, in the presence of the Queen, was, probably, the last lakalaka performed by Kanokupolu before the village was destroyed by the tsunamis on Jan. 15, this year.
Adrienne L. Kaeppler was born in 1935 in Milwaukee Wisconsin, United States.
Adrienne passed away peacefully in her sleep, in Washington DC, on March 5, 2022. A private funeral is being arranged by her colleagues.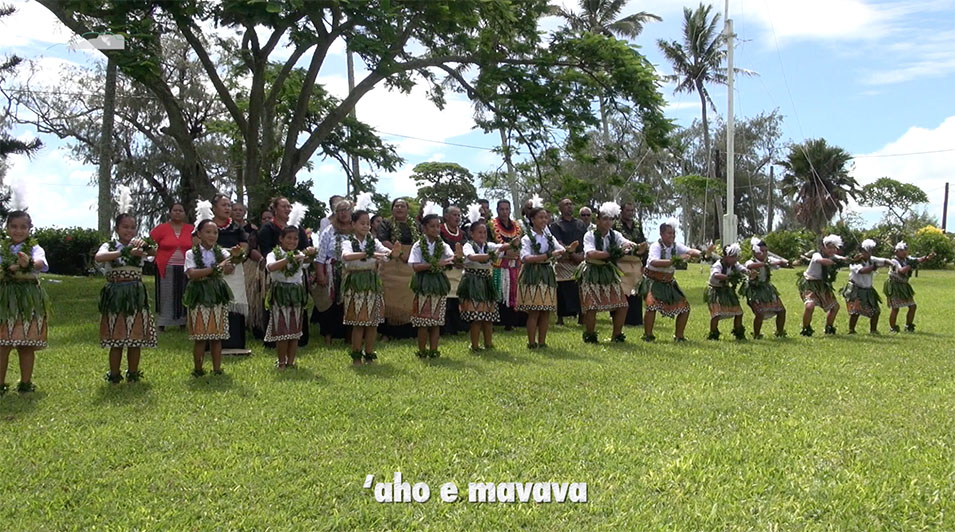 GPS Kanokupolu performs the "Ta'anga ma'a Kanokupolu" lakalaka, in honour of Adrienne L. Kaeppler, in the presence of Queen Nanasipau'u at 'Api Polataane in March 2021. Photo: MLF.
– Obituary by Mary Lyn Fonua.
— Books published by Vava'u Press in Tonga:
Poetry in Motion: Studies of Tongan Dance. Vava`u Press. 1993 (Kaeppler, Adrienne L.)
Lakalaka: A Tongan Masterpiece of Performing Arts. Vava`u Press. 2012(Kaeppler, Adrienne L.)
Tonga's Royal Family. Photographs from Royal Collections. Coronation Edition. Vava`u Press. 2015 (HM Queen Nanasipau, Kaeppler, Adrienne L., and Fonua, Mary Lyn.).
Songs and Poems of Queen Sālote (2004, 2019):
– "Queen Sālote's Poetry as Works of Art, History, Politics, and Culture" (Kaeppler, Adrienne L.). in Songs and Poems of Queen Sālote. [updated reprint], edited by Wood-Ellem, Elizabeth., 26-65. Vava`u Press. 2019.
– "Notation, Texts, Translations and Interpretations." (Kaeppler, Adrienne L.) in Songs and Poems of Queen Sālote. [updated reprint], edited by Wood-Ellem, Elizabeth., 342-397. Vava`u Press. 2019.Pacific IslandsTongaTongan cultureTongan dance and societyAdrienne L. KaepplerSmithsonian National Museum of Natural History staffobituaryscholars of Polynesia