SCMP – Maria Siow – Published: 7:30am, 26 Aug, 2021
During US Vice-President Kamala Harris' major foreign policy speech in Singapore on August 24, she delivered a sharp rebuke to China for its incursions in the South China Sea, warning that Beijing's actions constitute "coercion" and "intimidation".
Affirming that Washington would support its allies in the region against Beijing's advances, Harris also laid out the Biden administration's vision for the region, saying the US would "stand united with our allies and our partners in Southeast Asia in defence of a free and open Indo-Pacific".
The repeated reference to "Indo-Pacific", a policy frame promoted by the Trump administration, reflects the Biden administration's continued outreach to the region and the way US foreign policy has been recast by China's expanding influence.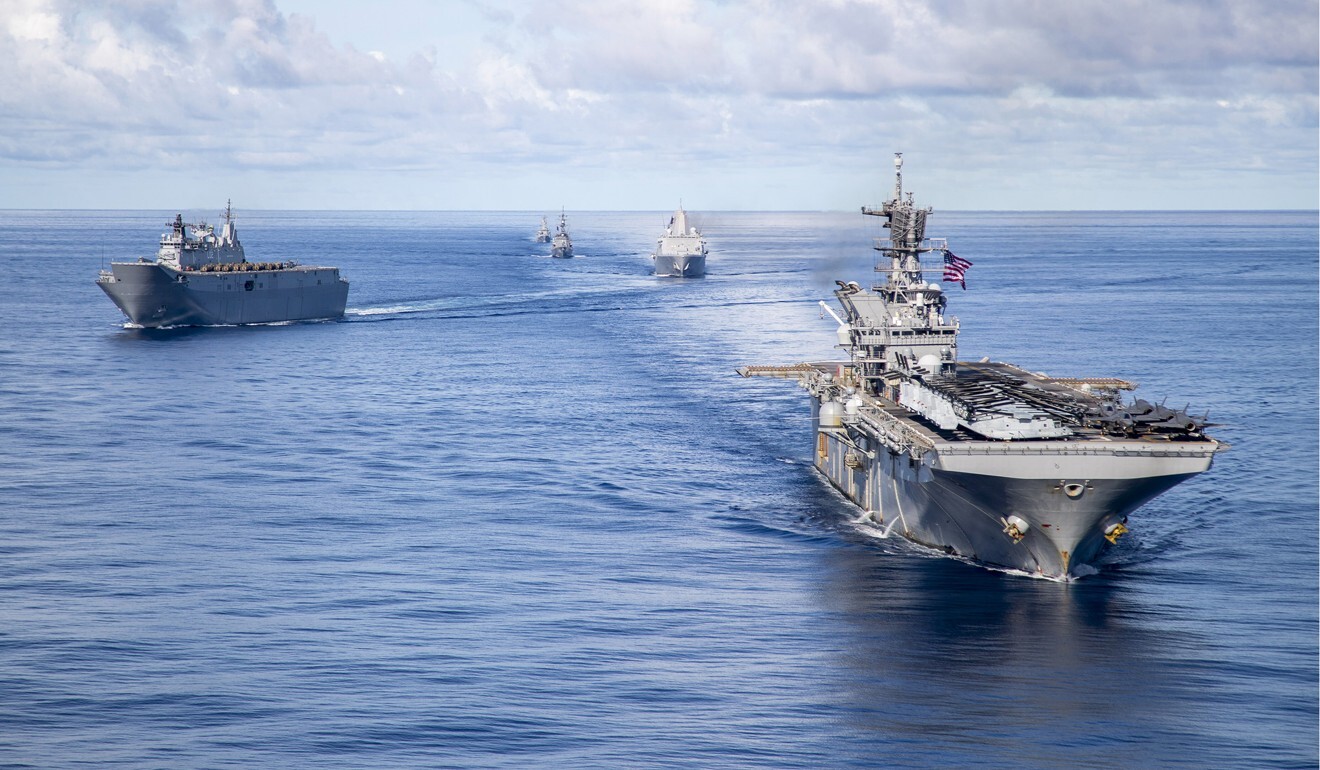 Ships from the US, Australian and Japanese defence forces conduct maritime manoeuvres during the US-led Large Scale Global Exercise 21. File photo: RAN/LSIS
When was the term 'Indo-Pacific' introduced?
For decades, the vast expanse of territory stretching from Australia to India was referred to in Washington as "Asia-Pacific", although "Indo-Pacific" was commonly used among foreign policy experts, mainly in India, Indonesia and Australia.
Even before Donald Trump's five-nation Asian tour in November 2017, White House officials and even Trump himself had started using the term "Indo-Pacific".
H.R. McMaster, who served as Trump's national security adviser for 14 months, used the term repeatedly when talking to reporters about Trump's visit to the Philippines, Vietnam, China, South Korea and Japan.EVERY MONDAYThis Week in Asia NewsletterBy submitting, you consent to receiving marketing emails from SCMP. If you don't want these, tick hereBy registering, you agree to our T&C and Privacy Policy
The changed language was initially interpreted as an attempt by Trump to distance himself from the policies of Barack Obama, his predecessor, who spent much of his second term seeking to pivot US foreign policy from the Middle East to the emerging economies of Asia.
The fact it has been echoed by the Biden administration suggests it is the new normal in US foreign policy.
READ FULL ARTICLE HERE : SCMP